Stromboli. I make a mean one - homemade semolina dough, two kinds of meat, cheese, and homemade marinara. The Huz worships those loaves of chewy Italian goodness, as well he should, but this recipe, however, is not that one. This recipe was one I whipped up in 20min, fridge to table, on a night that my former supper plan came to a sad end. I left dough to rise for that fantastic stromboli...aaaaaaand left it forever and it dried out. Fail. (and by left it forever, i mean more than 24hrs in a warm oven. don't ask.) Happily, my two big men and I loved this quick-fix supper, and we're adding it to the rotation. I shared it's spicy gorgeousness on Facebook and y'all asked for the recipe, so here it is! One warning, it is rather hot, we like our Cajun seasoning, so taste as you go. Eva couldn't eat it (yogurt for supper!), but Dre took the heat like a champ. Hope you and yours dig it! This grainy photo was all I got, folks, but you can still tell it was deeelish.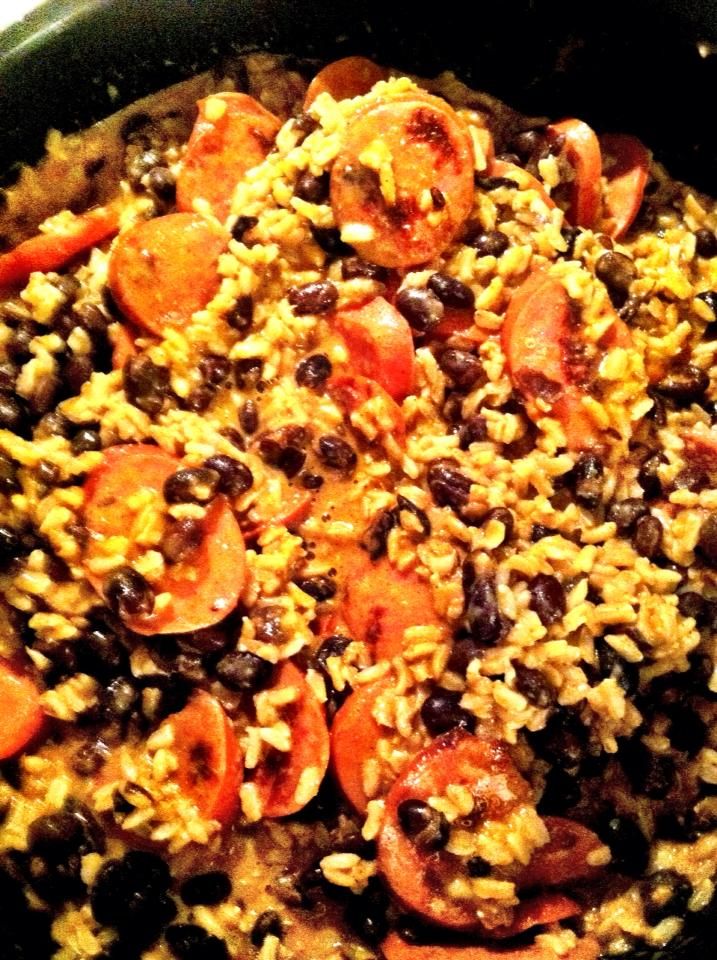 Easy Cajun Beans and Rice
(brought to you by the fruit of forgetfulness and blessed creativity.)
1 smoked kielbasa sausage, sliced
3.5 - 4cups cooked brown rice
2 cans black beans, drained and rinsed
2-3 TB Cajun seasoning (more or less to taste)
1 can chicken broth
½ cup sour cream
Heat skillet over medium high heat. Add slices of kielbasa, and brown for several minutes. Add rice and drained beans and mix. Sprinkle Cajun seasoning over mixture, followed by broth, and blend. Allow to simmer for 10min or until heated through. Stir in sour cream and taste. Add more Cajun seasoning if desired. Serve with honey cornbread and enjoy!